Posted by Mr. Kid in Halloween Family Fun - Pumpkin Patches, Haunted Houses, and Corn Mazes
Sep 20th, 2010 | no responses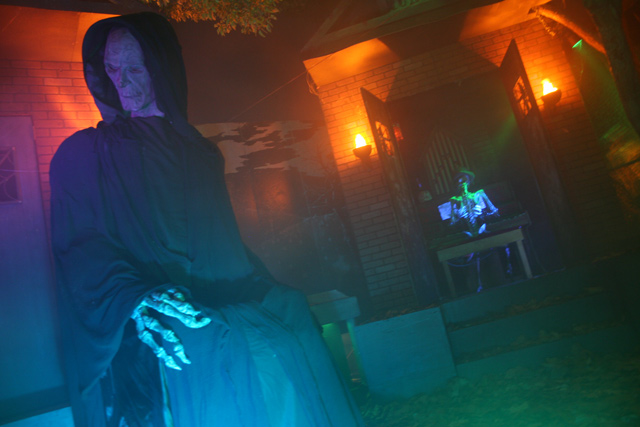 Note: DC Cemetery is taking 2010 off. They will up and running again in 2011.
My daughter and I went to the November 1st 2009 showing. I drove from Santa Cruz and it was worth every second of the 45 minute drive.
DC Cemetery is a labor of love by one Brent Scott, with generous support of his family and friends.  2009 was the 19th year of operation and Brent's childhood love affair with Halloween has grown into a thriving animatronics prop business. Every year he takes over his parents front yard and driveway and erects a giant graveyard and mousoleum full of moving, screaming and howling creatures and spooks.
We got there at 4pm for the "kids" showing. Really just the same as the night show but it's daylight out. Some of the 4 and 5 year old's thought it was cool. Some burst into tears. My daughter loved it.
We stayed for an hour then got a bite to eat at Garden Fresh Vegetarian Chinese Restaurant just two blocks down the street and came back at 6pm when it was darker. We stayed for another half an hour.
It's not a walk through and I think that's good. You just walk around the front checking out all the different scenes. There are no time limits and you can stay as long as you want. The street is blocked off so you don't have to worry about getting hit by a car.
Highlights are the singing statue that would be right at home in Disneyland's Haunted Mansion, the 10 foot high giant robed monster guy that stands up, wave his arms and gives you a long speech about how you're all in danger, and the guy who burst through the doors screaming as a skeleton tries to tear him apart.
Brilliant!
The entire time, Brent is working behind the scenes keeping everything running ( there are a lot of moving parts and at anyone moment it seems like one of them will cease working)
He pretty much works non stop the whole evening.
I put $5 in the donation box and I still feel like I ripped them off. Hands down the best bang for your Halloween buck.
A must see for anyone who appreciates art, effort and the value of a non-commercial family event.
Official Website: DC Cemetery Website
File Under: San Jose Haunted House – Home Haunters in San Jose