Posted by Mr. Kid in Halloween Family Fun - Pumpkin Patches, Haunted Houses, and Corn Mazes
Sep 19th, 2010 | no responses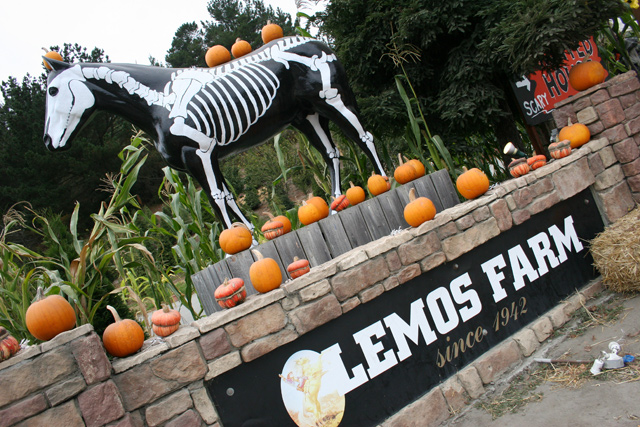 Located in Half Moon Bay, Lemos Farms is a year around family destination for the little ones, but really goes off in September and October.
First off, if you have an irreverent sense of humor, you absolutely must ride the Ghost Train. Really just a series of golf carts tricked out to look like a train, this ride takes you around the park and through Ghost Town. Don't take the first cart unless you like deisel fumes.
Ghost Town is a series of half sized dioramas populated with ever piece of Salvation Army and Halloween Store closeout oddity imaginable. Nothing makes any sense. Girl's dolls mingle with skeletons, who sit next to zombies riding bikes. Monsterfied little old-timey western townspeople drink, fight, eat dead animals, butcher horses, and till the land. It's just a beautiful mess of a ride and we both loved it.
They also have a walk through Haunted Barn. They'll run it with all the lights on and no sound effects for the little ones. My daughter opted for the kid's version which was both fortunate and a bit of a bummer. The fortunate part was we could get a good look at all the oddball creatures. The downside it the lack of atmosphere. Just like Ghost Town, the Haunted Barn is an assortment of what ever flotsam and jetsom they could piece together over the years. My favorites were the Macy's men's mannequin dressed up like a psycho clown and the transgendered zombie. And no, I'm not making this up.
This year we did the haunted house with the lights out and my seven year old daughter was pretty freaked out. Way scarier and intense that the non-scary show so be warned.
On the more harvest time, old western town side of things, you have a visually dense attraction with a good selection of reasonably priced foodstuffs and treats complemented by bounce houses, pony rides and a petting zoo.
An added bonus is a real earth moving type piece of equipment. For two bucks you kids can work the controls and scoop up big piles of gravel. It's totally safe as the moving parts and gravel are inside a cage. But be warned, the controls are counter intuitive so you'll probably pay to use it twice just so your kid doesn't feel like a total goof.
A must see attraction for the Half Moon Bay area.
Official Website: www.lemosfarm.com
File Under: Half Moon Bay Old Time Western Town, Half Moon Bay Pumpkins, Half Moon Bay Haunted House