Posted by Mr. Kid in Halloween Family Fun - Pumpkin Patches, Haunted Houses, and Corn Mazes
Sep 19th, 2010 | no responses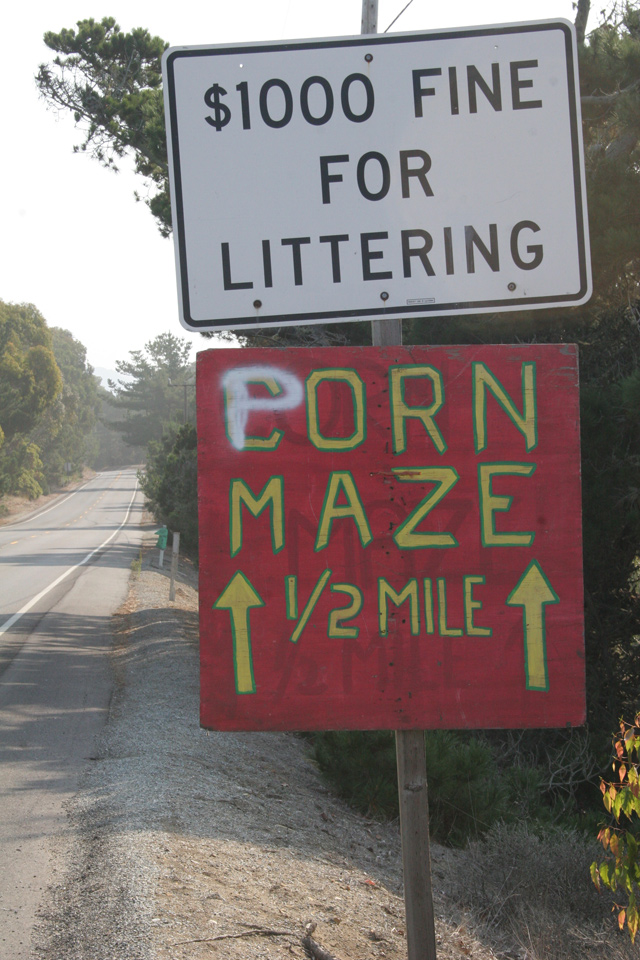 In October 2009, I found this place tucked away off Highway 1, a half a mile down highway 84. If you don't look closely at the signage around the place, you'd never know it's actually called Muzzi's Ranch.
My daughter and I got here around 9am by following some signs promising a corn maze, pumpkin patch, and fresh strawberries. The new and improved Corn Maze sign, which now reads "Porn Maze" made this funky place all that more charming in a hillbilly, slightly creepy way.
When we arrive there is no one around, so we just climb the straw pyramid, do the corn maze and check out the pumpkins – basically a self guided tour. A good portion of the pumpkins were these mutants that you'd never see in a market or any pumpkin patch really, so that was pretty cool.
Over yonder we notice this old barn. It's falling apart and sunlight enters through the collapsed roof. It's filled with rusty farm equipment and rotting timber. It looks like it must have been a processing center at one point, perhaps for packaging vegetables, as remnants of shelving, work stations and a conveyor belt are still recognizable.
Suddenly we notice an old table with fresh strawberry flats on it.
Standing next to it is an older man with deep wrinkles and tanned skin – the kind of look you only get by working the land. He's well dressed with a freshly pressed rodeo shirt and jeans and nice cowboy hat. He's motionless and silent.
We look at the berries but the price is per flat.
"Excuse me, would you just sell me one basket?"
He just looks at us.
"You see, we don't need this many berries. Do sell them individually? I don't see a price."
He pauses for a moment, and slowly walks over to the berries.
"How many" he says in a barely audible voice. I'm not even sure if his lips moved.
"Just one."
At this point I'm fully expecting him to say "hey boy, we don't like your kind in these parts" and banjo picking to start to play in the background.
He reluctantly gets me one basket but makes it clear that my request, while being met this time, was not appreciated. He didn't say it with words because he didn't have to.
He hands me the basket.
"Two dollars."
I fortunately I had exact change and we got our berries and headed out. If I had made him break a twenty I'd probably banned for life from these parts I reckon. And you know what? The berries weren't that good. A Safeway shopping city slicker may think so, but I'm used to picking my own berries fresh in Watsonville at Gizdich Ranch and these just didn't measure up. But then again, even organic farmer's market berries barely hold up to fresh picked at Gizdich.
The straw pyramid was killer though. So a big thumbs up for an unexpected experience and a shout out to the old man selling berries for keepin' real.