Posted by Mr. Kid in Stores, Malls and Businesses That Kids Will Love
Sep 29th, 2010 | no responses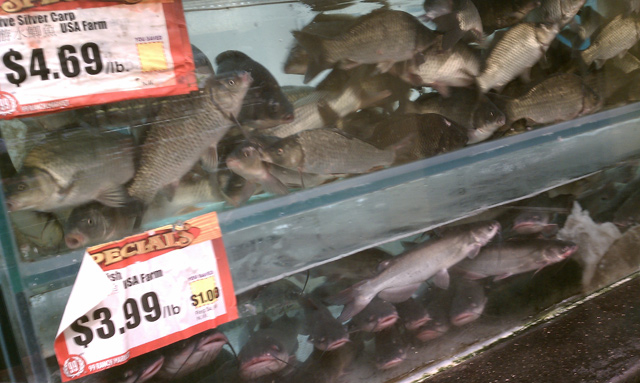 Located on the opposite side of the freeway from The Great Mall is the Milpitas Square shopping center.
This is a Chinese shopping center, meaning all the store fronts, the menus, and the signage is aimed at a Mandarin speaking and reading crowd. My friend affectionately refers to it as an Asiary. Throughout the bay area there a clusters of imported cultural activity and this place is a testament to our liberal (not politically, I mean in the classic definition) immigration policies.
All the restaurants, and there a lot of them, are Chinese or Taiwanese, so if that's your thing, you'll be in heaven. But it is rather comical. Imagine a shopping center where every restaurant was a Taqueria. Or a mall with twelve hot dog stands and nothing else. Or a mall with a Wendy's, a McDonald's, a Burger King, a Carl's Jr., and an In-n-Out Burger all in a row.
My favorites are Taiwan Noodle House (no, that's not a description, that's the actual name) which makes a mean garlic cucumber salad and a darn fine veggie noodle soup and Chili Garden for hot and spice authentic Schezwan cuisine.
There's just enough English to make it manageable for non-Chinese folks so getting around is not an issue. Most of the staff speaks just enough English to get by, while some are completely fluent. So if you're not making any progress you'll be quickly passed off to someone which can understand you.
Anchoring the shopping center is 99 Market , a local chain of Asian grocery stores, and this is one of the super sized ones.
I could go on and on about what you'll find here but the short answer to your question is "yes". As in "yes" they have every thing you've ever seen, eaten, or drank, that one would consider Chinese.
However, the fresh fish and seafood counter just blows away what passes for seafood in any American style grocery store. Starting from the back right you can buy live soft shelled turtles, live channel catfish, live crayfish, live blue crabs, live bass, live carp, live oysters, live clams, live tilapia – ah heck, if it breaths water they probably have it, alive, and available by the pound.
That's not even touching the frozen stuff which goes for another fifty feet and then the meat counter which has everything from brains and half sheep heads to tubs of fresh or cooked pigs blood (oh what to choose, what to choose!)
Wimpy vegetarians and meat eaters in denial may be repulsed but to me ( a vegetarian for 24 years and not squeamish) it's just fascinating. Like a science experiment or a forensics class.
Plus, it is fun to watch a crawdad get pissed of and try to kick your ass.
Official Website: www.99ranch.com