Posted by Mr. Kid in Halloween Family Fun - Pumpkin Patches, Haunted Houses, and Corn Mazes
Oct 9th, 2009 | no responses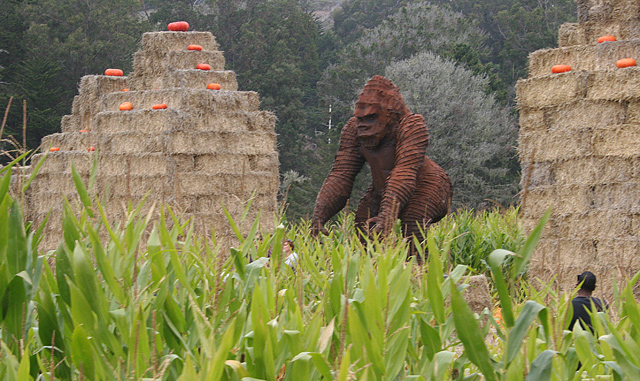 If Disney were to make a pumpkin patch it would be Arata Pumpkin Farm. The second you get your first panoramic view as you approach the entrance, you know you're in for a great time.
Free admission but there's  a modest fee for the maze, haunted barn and hay ride. The maze fee is good all day so do it as many times as you want with a single admission. Decent prices on snacks and food as well.
So what can you expect? How about best straw maze in the world. Unbelievable. Find the Minotaur and he'll give you a golden pumpkin! Giant iron hinges support secret movable doors that hide and reveal different pathways as well as alter the experience every time.
For a spookier journey enjoy the haunted barn! It's a mellow experience that even many of the littler ones can enjoy it.
In the Roman style arena see Gladiator fights, provided by the the members of The Western Circle of Swordfighters, every weekend in October. This is the real deal, although the weapons are blunted they really do whack the crap out of each other. Yes, real fighters in armor with real swords and shields. And yes, they do get hurt sometimes.
If your feet get tired you can take a hay ride through the farm. It goes right past the giant steel King Kong statue! Be sure to check out the "river" of pumpkins that meanders through the corn fields. And for the little ones, pony and mini train rides, a play area with a climbing structure and jump house, and a classic petting zoo. Plus an outrageous selection of pumpkins – though they are a bit on the pricey side compared to other pumpkin patches in the area.
This place gets crowded during peak times but not so crowded that it hinders the enjoyment. Arata is huge so it can sustain a large crowd – but no so huge that the tiny ones will be whimpering that everything's to far to walk to. So no tears and the dragging of feet. If you were Pink Floyd, you'd would probably describe it as "comfortably huge".
Did I forget to mention how much this places rocks?
File Under: Half Moon Bay Pumpkin Patch, Half Moon Bay Straw Maze and Haunted House
Official Website: www.aratapumpkinfarm.com