Posted by Mr. Kid in Halloween Family Fun - Pumpkin Patches, Haunted Houses, and Corn Mazes
Sep 29th, 2010 | no responses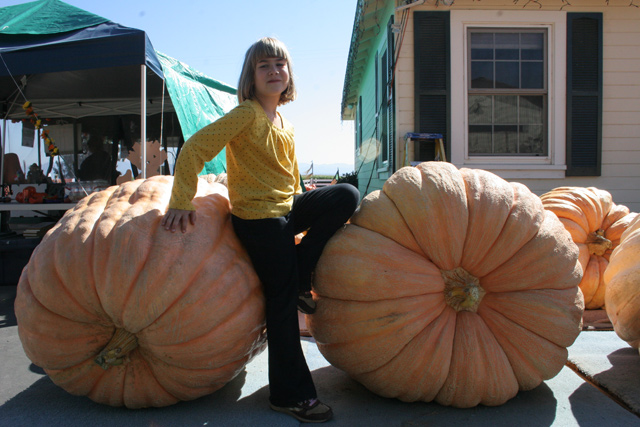 Located on Roger's Road near Salinas, Borchard Farms grows some seriously big pumpkins. Like the kind you only see at the county fair or on the front page of a newspapers. They also have the absolute best variety of squash for sale you will find anywhere. Just boxes and boxes of every size, texture, and color possible and all at very competitive prices.
The giant pumpkins and squash orgy would more than enough reason for a visit but Borchard boasts a variety of other activities – some standard to most pumpkin farm destinations and some wholly unique to them – to keep the kids whacked out on happy juice for hours.
Among the standard features is a top notch corn maze and a haunted barn. The maze is pretty big, with nice wide swaths, and if you want to keep your bearings and get out in a reasonable time, be sure to note the direction of the sun before entering. The corn is too tall to get a sneak peak and cheat your way out. Also, no one is going to come get you when you get frustrated. So be prepared to carry the little ones when they start whining.
The haunted barn is a collection of horror scene dioramas tucked behind chicken wire. You don't notice the chicken wire too much so it's not as weird as it sounds. It's got spooky music, mood lighting, and it's completely self guided. There's no time limits or live actors, and the staff can loan you a flashlight if you need it, so this is a good place for the little ones trying out their first "real" haunted house.
They also set up a bounce house, some inflatable decorations and offer a cute little kiddie haunt. The kiddie haunt is an outdoor area with low hay bale walls and several chambers with "spooky" scenes and a hay pit. The hay pit is a blast and perfect place to get your aggressions out with a good hay fight. Even the most timid toddler will be fine with this one.
Tucked around back is the exotic bird area. It's not part of the official tour but visitors are welcome. It's a series of cages that house peacocks, ducks, geese, chickens and assorted show fowl. Grab some fresh grass and feed the geese – they loose their minds over  fresh grass.
Before you leave, pick out a nice pumpkin. The prices are really cheap and if you want to spend a few bucks, $20 will get you one big enough to be a neighborhood show piece. You won't just be keeping up with the Joneses, you'll be crushing them with your mighty pumpkin!
Official Website: www.borchardfarms.com
File Under: Halloween Family Fun in Salinas – Giant Award Winning Pumpkins – Buy Giant Pumpkins