Posted by Mr. Kid in Parks and Recreation Family Fun - Fishing, Camping, Hiking, Slides, Water Play, Playgrounds, and Beaches
Oct 10th, 2010 | no responses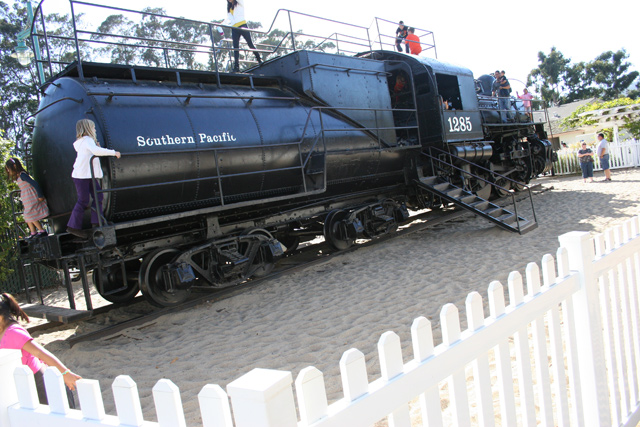 Located by the beach in Monterey, Dennis the Menace Park is an old school park with some new school flair.
It's loaded with artifacts from a bygone area before the lawyers, the social engineers and the child development specialists took over our parks and pretty muck killed anything that was unique and hand made.
The park used to be completely old school, but they ripped out some of the stuff and replaced it with the attorney approved stuff. How you feel about that will depend if any of your favorites were destroyed.
Fortunately, there are still some old school favorites.
So what will you find? How about a full size locomotive that you can climb on, in, and over. There's no fences or blocked areas. Whether it's safe is up to teach child and their parents which I believe ultimately makes it safer than the specialized new age equipment with it's rounded edges, pads, and restrictive use. Why? Because climbing on a train keeps you focused and alert and tests and trains your balance and judgment skills. No one plays absent mindedly on the train like they do on the modern stuff.
And how about an old suspension bridge that's a good ten feel above the ground. It's made of steel cables, real wood,and chain link fence material – it sways and bounces like a good suspension bridge should. The railing is only moderately high and the top is open which makes it especially exciting when you get it rocking.
Rounding out the old school equipment are free form walkways and pathways build on improvised concrete hills, a few concrete tunnels, some steel and concrete bridges with an art deco flair and a maze built with chain link fence and shrubbery.
Very cool.
As for the newer equipment, it's clear that they showed restraint and picked items that match the historic vibe of the park. There's some funky green sidewinder slides, a really good climbing wall, a few monster play structures, and a very cool conveyor slide.
The conveyor slide is build out of the type of steel rollers that one sees in a packing plant that keeps the boxes moving quickly. The slide is slow, but it's the novelty and the vibrations that keep the kids coming back for more.
After you're done you can grab some affordable treats and eats in the old school snack bar or rent some paddle boats.
A word of causing on the boats though. It may look easy, but there is a near constant north west onshore breeze in Monterey and the rental place faces South. This means on your way back you'll be pumping against the wind and I guarantee your five year old won't be helping out by working the second set of pedals.
So keep a reserve of energy for the journey back.
File Under: Best Place and Only Place to Climb and Train and Rent a Paddle Boat in Monterey