Posted by Mr. Kid in Farms - Pick Your Self, Fruit Stands, Tours, Open to The Public
Sep 30th, 2010 | no responses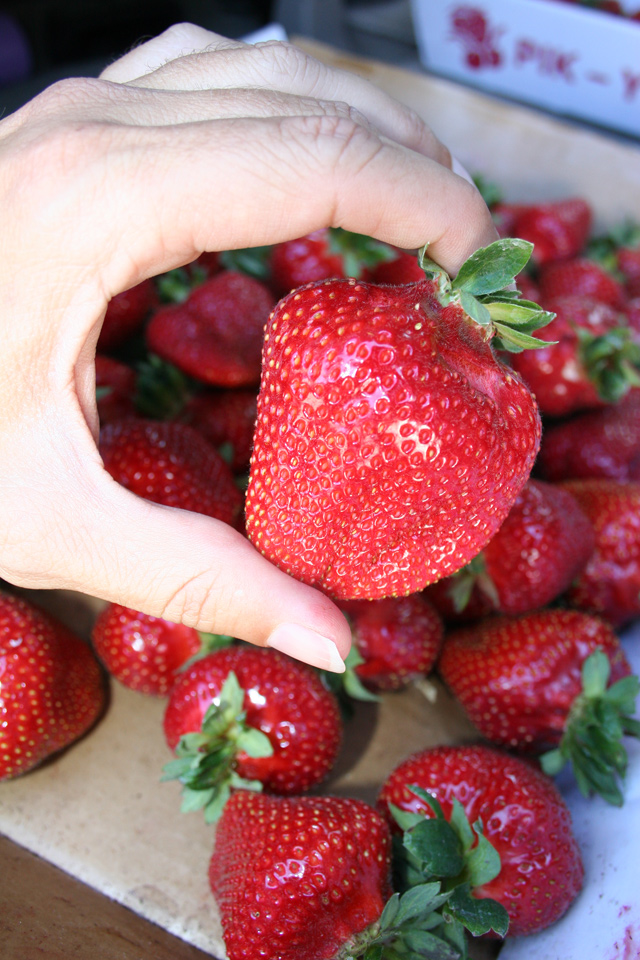 There are two things I've learned from Gizdich Ranch. One, there is nothing better than fresh picked strawberries, and two, picking strawberries is one of the most painful things you can do.
You can try bending at the knees, bending at the waste, sitting in one spot in a squatting position, or scooting along like a crab. No matter what you try, your back will be killing you after an hour. But is so worth it. That's why I come here every Saturday from June through July to get my fix.
Sure, I could just go buy a flat in their store, but they will not be as good as mine. I'm picky about what I pick. As I've trained my daughter, the strawberry should look like it's bleeding. Pure deep red from crown to bottom. No white or blush of pink. My berries are pure deliciousness from the first one to the  last.
The price is also insane at a buck thirty-five per pound! I fill my flat for about ten bucks and have enough berries for the week.
They also have pick your own Olallieberries and Boysenberries for equally low prices. Oh, and apples in the fall of course. Gizdich also is about the only place where you can still get fresh pressed, unfiltered, unpasteurized apple juice. The difference between this and Odwalla is night an day. About as big as a difference between Odwalla and that Tree Top crap. Gizdich apple juice is real food, not sugar water.
After we pick our berries we often head to the main barn where they make fresh pies daily. You can buy by the slice or by the pie. Is the pie good? Hell yes! Affordable too. We take our pie out to the yard and enjoy under the morning sun at one of their many picnic tables.
For the kids they got a sand box, sand toys, a hay bale structure and a cool broken down antique tractor to play on.
You can also just wander around the farm. In between the apple trees they often grow, squash, tomatoes and cucumbers and then let the fruit rot for fertilizer. I rescued a few tomatoes one time and they were amazing.
Forget you read that.
File Under: Best Strawberries in Santa Cruz County
Official Website: www.gizdich-ranch.com