Posted by Mr. Kid in Educational Family Fun - Museums, Science Centers, Airports, and Aquariums
Oct 10th, 2010 | no responses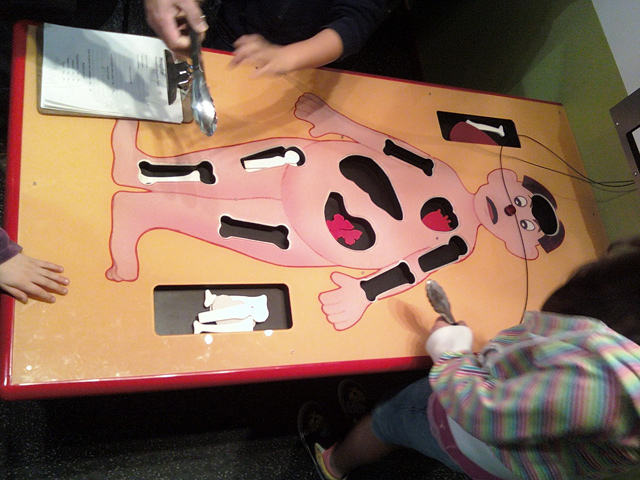 Located in downtown Monterey, My Museum is a trippy little place full of hands on activities for the little ones. Somewhat like a miniature Discovery Museum, there's a wide variety of themed play areas and each one incorporates a scientific principle (though some more convincing than others).
Is the mini golf course science? Well sort of, if you include the subterranean tunnel that exposes layers of sediment or the idea that being able to hit a decent put involves physics as well as geometry. But that's not a criticism. The modern children's museum is first and foremost about play as a bridge to scientific discovery. The science, well you can indulge or not, but it better be fun.
The "youth" part of their name is a bit misleading as this place is definitely for the toddler to early elementary age range. Teenagers will be bored, but the adults will dig it because they gave up trying to be cool long ago.
Some of the highlights include the giant version of the classic kid's game Operation, the sliding doors that present the bodies major systems on each layer, the farm with conveyor belt, and the main performance stage.
The performance are is true genius. The back stage is an authentic dressing room full of plush, full-body animal costumes and the front is a stage with a monitor that the kids can watch themselves on. It's so simple, but so effective. The kids are just mesmerized by this area and it's where my daughter spent most of her time even though she did nothing but put on costumes, come out on stage, stand there for a few minutes, then try on another one.
Now I'm a very relaxed guy when it comes to dirt and germs. I don't think that there are microbes constantly seeking to destroy me if i don't religiously sterilize myself throughout the day. But even I'm a little sketchy with the idea of dozens of children swapping costumes that cover their whole body. But I'm not going to keep my kid from the fun, so I just cross my fingers and hope that no one has lice. So far, so good.
Official Website: www.mymuseum.org
File Under: Great Place for Preschoolers to Learn Science in Monterey