Posted by Mr. Kid in Halloween Family Fun - Pumpkin Patches, Haunted Houses, and Corn Mazes
Sep 30th, 2010 | no responses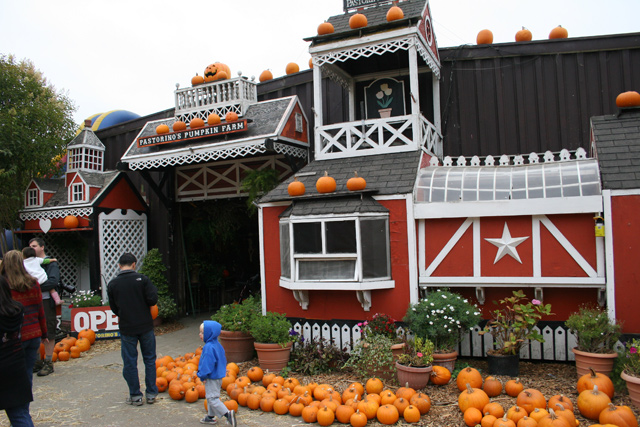 Located in Half Moon Bay, directly accross the street from Lemos, Patorinos Farm is normally a nursery with huge greenhouses to stroll through but cranks up the Halloween spirit in October.
There's the usual pumpkin patch, jump houses, slider, food stands and hay rides but there are two features that you won't find anywhere else – a train ride through the greenhouses and a haunted house built inside a littler greenhouse that's inside the big one.
The train ride is the standard farm set up with a diesel tractor pulling some tricked out golf carts so don't sit up front if you can't handle the fumes. The cool part is that the train weaves in and out of the greenhouses and through the rest of the compound. It feels like a forbidden joy ride as the train zips around the rows of flowers, ferns and pallets of potted plants and surprisingly never knocks anything over or destroys the entrance by shearing off the door frames.
On the train ride you also pass by the haunted house and a cute tunnel that's filled with a spooky diorama.
The haunted house itself is good for kids who are too old for the kiddie haunts but not quite ready for the more adult ones. This is mainly due to the atmospheric quality and the handful of live actors.
After you're done, check out the gift shop. It's a nick-knacky folk arty paradise and the prices are surprisingly reasonable. I saw a some cool 14 inch skeleton in handmade costumes ( pirates, surgeons, prisoners) for twelve bucks each which is quite fair.
Official Website: www.pastorinofarms.com
File Under: The Best Greenhouse Train Ride In Half Moon Bay and Probably the World