Posted by Mr. Kid in Indoor Family Fun - Bounce Houses, Gyms, Swimming Pools, Gymnastics, and Family Enertainment Centers, Swimming Family Fun - Public Swimming Pools and Water Parks
Sep 19th, 2010 | no responses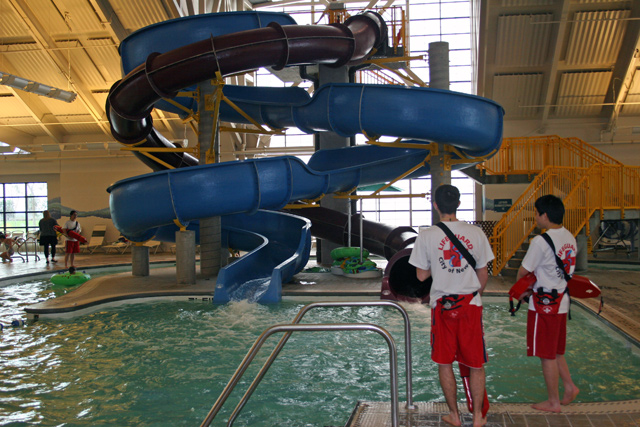 Newark (the one in San Jose) is dead serious about providing affordable aquatic recreation to its citizens. This place is the Rolls Royce or indoor swim centers.
The first thing you'll notice are the lifelike brass sculptures of children playing. They decorate the outside of the building as well as the lobby.
The second thing you'll notice is the huge glass windows that give you your first glimpse of the swim center. It's so beautiful you'll nearly pee your pants (although you'll probably save it for the pool). And as you wait to pay, your kids will be convulsing with excitement and anticipation.
This place is a marvel of modern engineering with its two story double slides, inner tube lazy river, fifteen person hot tub, spray play structure with a zero to 2 foot deep pool for the little ones, and private showers. Yep, you read that right. Private showers!
The inside is set up just like an outdoor pool with plenty of tables and chairs . They have reasonably priced food on site, but you are welcome to bring in all the food and drink you want, so don't be shy about packing a serious lunch. If you want one of the best tables, get there a good five minutes before opening and claim it first, then put on your swim gear.
The prices are very affordable:
2 years and under FREE with paid adult
3 years – 5th grade $4.50
6th-12th grade $5.50
Adults $7.50
In the winter this is THE place to go for comfortable aquatic fun. Well worth the 50 minute drive from Santa Cruz.
Official Website: www.newark.org/departments/recreation-and-community-services/aquatics/
File Under: Swimming in San Jose, Indoor Swimming Pools San Jose, Water Slides