Posted by Mr. Kid in Stores, Malls and Businesses That Kids Will Love
Sep 24th, 2010 | no responses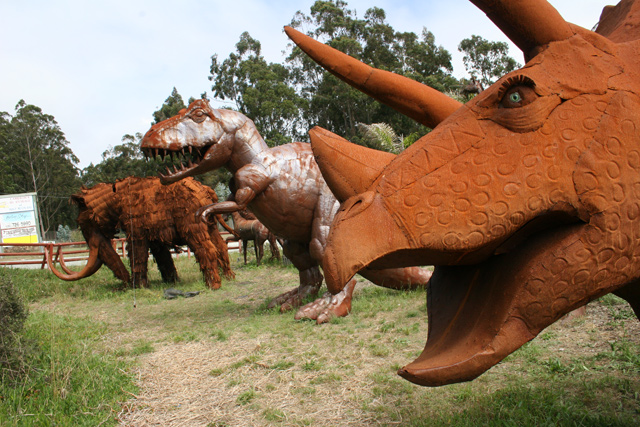 Located on Highway 92 in Half Moon Bay, Spanish Town is your classic bait and switch – but in a very good way.
Along the front is a huge selection of (more or less) life sized metal dinosaur sculptures. This in itself is reason enough to swing by.
However the real goodies are inside their courtyard. Spanish Town is really an epicenter for all your statuary and fountain needs.
They lead you in with the basics – classic tiered marble like fountains – and then introduce the progressively more novel and bizarre the deeper you go.
Would you like 21 varieties of dog statues? Well they got them. How about reproductions of Michelangelo's David. Yep that. too. But we've all seen these before, though not as nice as these. But what's most interesting is the shear quantity, quality and variety available. It must be hundred's of thousands of dollars in inventory.
They have zen styled fountains with natural and minimalist design, humorous and irreverent statues, loads of classic Greek stuff in both fountains and statuettes, new age dolphin crap, realistic dinosaurs, jade lions, funky frogs, birds of all sorts, and some one-off originals that defy categorization.
The most out of place, and hands down the most awesome to anyone who has any taste, is the life sized iron skeleton sculpture that stands in front on steel prison door and is armed with an automatic rifle. It looks like something out of Terminator II. You can find it behind the happy dolphin fountain and in front of the giant bug eyed chickens made from steel drums. And no, I'm not making this up – go check my photo gallery.
Well worth a visit.
File Under: Dinosaur sculptures in Half Moon bay