Posted by Mr. Kid in Halloween Family Fun - Pumpkin Patches, Haunted Houses, and Corn Mazes
Sep 23rd, 2010 | no responses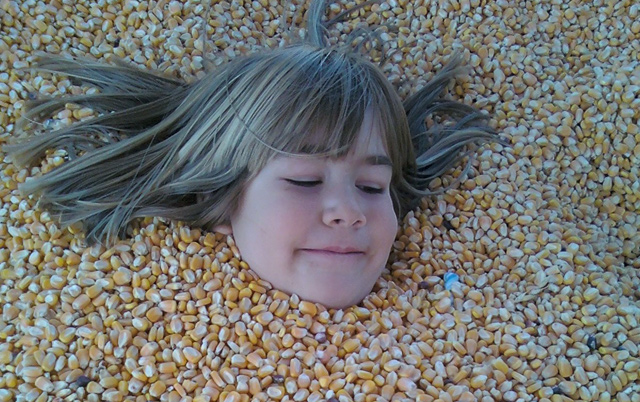 Located near Hollister, Swank Farms is fun, piled on top of fun, with a dollop of fun on top …and maybe a spritzer of fun for good measure.
What separates Swank from many other pumpkin patch maze events is that it's a blend of authentic farming activities and contrived carnival type attractions. Like Myth Busters type contrived. Like "my buddies thought this up when we high and we decided to build it" type contrived. But don't bother paying for everything separately – just get one of the package deals and spend a few hours.
The first thing you'll notice is that Hollister is windy and cold, but also sunny and warm, all at the same time. Expect to have your skin blown dry by the arid cool gusts and your body sweat a bit from the blazing sun. So bring layered clothing.
The second thing you'll notice is that you can't decide on what to do fist. Should you hit the pedal powered go cart track? Maybe the giant yellow bounce pillow? How about one of two mazes. The giant one where they run the Haunted House in the evening or the children's ones based upon the Spookley book. It's a tough call.
This, of course, is not even considering the corn cannon and the pumpkin slingshots. The kids like it, the mom's will ignore them, but the dad's will be freaking out. Corn cannon? Hell yeah!
The corn cannon is on a raised platform overlooking the target range. It's a homemade contraption using steel pipe and an air compressor. You shove a nice fat ear of corn down the muzzle using another piece of steel pipe as a plunger. The fatter and tighter the better. Put the ear in silk first and compact it like a musket. Then you aim and hit the red button. It has a wonderful kick and a very cool whooshing sound when it fires. With good compression you'll hit about 150 feet. Get another ear and repeat.
You have to pay by the ear to use the cannon, but I've fired off several rounds by just showing up before opening time and working the gun until the employees figured out what was going on.
Forget you read that.
The pumpkin slingshot is a huge launching device made from thick rubber, steel and bungee cord. The sling is held between two huge yellow utility type poles. If you don't have a good sized body mass and shoes with traction your distance will be embarrassing. With slick bottom tennis shoes and a five foot, ten inch frame and topping out at a whopping hundred and fifty-five pounds, I was no match for the pumpkin slingshot. However, I later saw two guys do it together, each one taking a handle and they got some serious distance.
After the cannons and slingshots, a good call is the goat feeding. The goats live in a pen that's half resort and half prison. When you see it in person you'll understand the stylistic dichotomy. Grab some stalks off corn from the bin. Hunt around and find a few ears of corn too. Then get on the plat form and start feeding. These goat are strong and aggressive, so hold on tight. Within minutes they strip the stalk bare. If you want the goats to truly loose their minds stick an ear of corn through the fence. Make sure your grip is tight or you'll lose it immediately. The goat feeding is primal, fun and a somewhat meditative experience – almost Zen like in it's simplicity.
After the goats head over to the Kiddy Corral. They got a small corn maze perfect for the little ones, some tractor toys, half buried tires to climb, an old school bus, and the very addicting corn cob kernel shredder. The shredding device is an old iron contraption that looks like a hand powered meat grinder. A dried ear of corn goes into the top, you crank the handle, and iron gears pull it through and rip the kernels off and send them down the bottom into the bin. The bin is so big and full of dried corn that it works like a sandbox for the kids. My daughter could even bury herself up to here face. Great fun, a great time waster, and good exercise.
When you leave the Kidddy Corral, remember to pick out your free pumpkin.
For some speed action go on the cow tractor ride. It's a series of tricked out 55 gallon barrels pulled by a tractor through the corn fields. Great fun, but it's not included in your day pass, so it will be a little bit extra. You can buy your ride passes at the main ticket counter. If the ride is empty, ask the guy to go fast for an extra thrill.
One year they had a museum of natural oddities. It may or may not be there so don't get your hopes up on that one.
This year (2010) they added pig races. They did two races and then they said they'll run them again when they say they are ready. I asked the guy running the race, "When you say they do you mean a group of people or the pigs?" He said he means the pigs. They let them know when it's time to race again and it's based upon their desire to get some more treats. Sounds like they'd do well on Wall Street.
When you're hungry you have a decent variety of options, and as a vegetarian, that's saying a lot.
For the meat crowd they have a huge grilling station outside where you can order big grass fed burgers with cheese and all the toppings for a very reasonable $5.50. If you think that's expensive then you need to stop eating at McDonald's and start eating real food.
In one of two stores they have cheap and delicious fresh fruits and vegetables, their own brand of salsa, and homemade fudge. Cold water is a buck a bottle.
We usually top of the day with gemstone mining and chips and salsa. I recommend buying two tubs of the roasted corn variety because you will polish off the first one there. It is quite possibly the best salsa fresca on the planet. No lie!
The gemstone mining is a pay per bag activity unless you bought the package deal that includes a small bag of rough. They have an old timey mining trough and every bag of sand is spiked with crystals or fossilized goodies. So every one's a winner! Personally, I think the bags with the shark teeth fossils are the coolest.
Figure on spending $20 – $40 per kid depending on food, drinks, treats, and extra activities that involve a separate purchase. However, for about twelve bucks each, your kids can have a blast with the Kiddy Coral, bounce pillow, and go carts package. Bring your own food and drinks and you can have a great time on the cheap.
Then get in the car, drive home, and take a nap.
Official Website: www.swankfarms.com
File Under: Haunted Corn Maze Hollister, Pumpkin Farm Hollister