Posted by Mr. Kid in Winter Holiday and Christmas Family Fun - Snow Play, Light Displays, Tree Displays, and Activites
Nov 21st, 2010 | no responses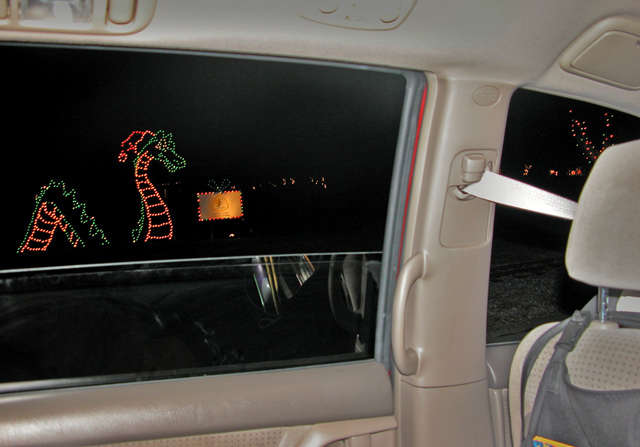 This is a fun event. You drive through Vasona park while listening to Christmas music on your car radio. The displays are huge and many incorporate animations. There's dinosaurs and an erupting volcano, a pirate ship, and a few tunnels among the dozens of displays. Takes about 20 minutes to drive through. Dress warm as you'll probably have your windows down.
But here's the kicker. This event is very popular and all the cars start lining up in the street before hand. But they won't let you line up too early. So you'll want to find a side street or a parking lot with a decent view of the entrance and wait it out. When they remove the barriers, you then drive your car into the line up. It's really weird and feels almost like a stake out as we all wait silently in our dark cars for the opportunity to make our move.
You pay per vehicle (about $10) so bring cash. If you want to take the mini train it's per person.
Official Website: www.parkhere.org
File Under: Best Christmas Lights Display San Jose – Drive Through Christmas Lights Display Santa Cruz