Posted by Mr. Kid in Educational Family Fun - Museums, Science Centers, Airports, and Aquariums
Oct 1st, 2010 | no responses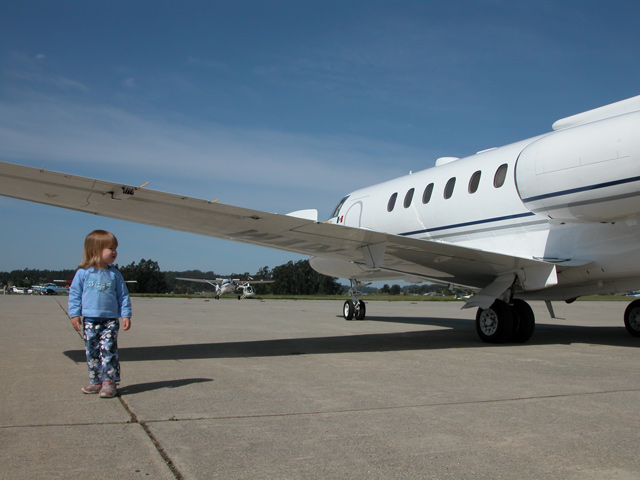 When my daughter was about one and half she started noticing planes in the sky. Not just noticing them, but pointing and yelling "pain, pain" every time she got a glimpse of one. I knew we had an airport in Watsonville, so I figured why not go see them up close.
Back before they put up the gates you used to be able just walk right out to the planes. We would walk out to the runway and sit down in the grass and watch them take off and land. We would even take her bike and ride around. It was pretty sweet.
One day a helicopter landed and we walked out to check it out. It was there to pick up some photographers to do some aerial shoots. When it was time for them to take off we walked away about hundred feet and sat down on the cement. The blades started spinning and I was surprised at how mellow the wind was. What I didn't know is that it was basically idling.
When the chopper took off for real, every piece of dust and debris on the runway blasted us in the face. It was like a pro baseball pitcher throwing fistfuls of sand at full force. I tried to protect my daughters face but she swatted my arms away and broke free. She ran towards the chopper yelling "helcoper! helcoper!", barely able to fight the wind, she protected her eyes with one arm while using the other one to point to the sky.
She was maybe two years old. She was hard core.
Even though the fence is up it's still really easy to get out to the planes. Just wait for someone to enter their code and go on in with them. It's not like this is a secure area anyway. Anyone with a slip gets a code and people drive right up to their plane, get in, fly away, come back, and then get in their car and drive back home just a casually as if they were running an errand for milk.
All kinds of planes use the airport and occasionally when a bigger jet would land my daughter would con her way into a personal tour. One plane had leather seats, gold fixtures and a marble counter top in the bathroom. After the tour the pilot gave us some candy from the snack bar. Pretty sweet both literally and figuratively.
Located in one of the hangers is the home of out local Chapter 119 of the EAA (Experimental Aircraft Association) and the  Young Eagles Flight Rallies. Once a month they have an open house and they serve free hot dogs and snacks and give free airplane rides to the boardwalk and back. No lie. It's all volunteer run and the folks are super nice and supportive.
If you need to pee, they have bathrooms, and if you need to eat, they have a restaurant and a snack machine. So no need to stress when you're with the little ones.
Official Website: www.watsonvilleairport.com